Foot Reflexology
Reflexology is the application of pressure to specific points and areas on the feet, to stimulates and relaxes nerves and muscles, strengthen organs, improves overall health. A reflexology session stimulates more than 7,000 nerves, encouraging the opening and cleansing of neural pathways, it help increases circulation, improving blood flow throughout the body, helps with people who have blood pressure problems or poor blood circulation, it also help cleanses the body of toxins and impurities, boosts immune system, improve sleeping quality. It is appropriate for all ages as well as for a variety of ailments.
Enjoy a warm herbal /sea-salt soak followed by a neck and shoulder relaxation massage to helps relieving tension.
45 min $60
60 min $80
90 min $110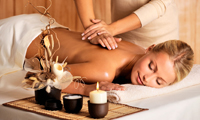 Body Treatment
Relaxation Massage
This smooth massage promotes physical and mental relaxation by improves blood circulation, relax muscles tension, aids digestion & intestinal functions, and smoothes nervous system.
60min $60
90min $90
Swedish Massage
Swedish massage therapy is the modality that comes to mind when most people think about massage. As the best-known type of bodywork performed today, one of the primary goals of the Swedish massage technique is to relax the entire body. This is accomplished by rubbing the muscles with long gliding strokes in the direction of blood returning to the heart. But Swedish massage therapy goes beyond relaxation. Swedish massage is exceptionally beneficial for increasing the level of oxygen in the blood, decreasing muscle toxins, improving circulation and flexibility while easing tension.
60min $90
90min $130
Hot Stone Massage
Hot stone massage is a variation on classic massage therapy. Heated smooth, flat stones are placed on key points on the body. The massage therapist may also hold the stones and use them to massage certain areas of the body. Warmed stones are combined with essential oil to release tension, restore balance and accelerate positive energy flow.
60min $70
90min $100
Lymphatic Massage
Through a specific relaxing techniques together by using relaxing essential oils to stimulate the body's lymphatic system. It helps promote cell regeneration, prevent cell aging, reduce muscle tension, help blood circulation, improve metabolism of the body.
60min $70
90 min $100
Body Polish
Natural products used to polishes skin to a soft glow while providing hydration and nourishment. We offer private shower room, and following a full body moistures lotion. Body scrubs are a great way to keep young, healthy and beautiful skin.
60 min $70
90 min $100
Add Mask for enhancement for just $15
Purifying Back Facial
An ideal treatment to rebalance the back skin to it's natural smooth, hydrate and revitalize state. Treatment includes deep cleansing, tone, exfoliating, steam, black head removal, mask and moisturizing.
70 min $65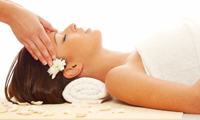 Facial Treatment
Mini Facial 35 min $40
A quick pick up. Includes a cleansing and exfoliation, along with a facial massage and mask. Great when you don't have the time or if you want to look revitalized for a special occasion.
Advanced Facial 75 min $60
Advanced Facial includes a customized mask to retexturize the skin, soften fine lines, brighten complexion, and purify pores. Cosmetics skincare products are used on the skin to nourish, soothe, and oxygenate. This facial is customized to treat oily, dry, mature and congested skin, and is an absolute must before any big event.
Anti-Aging Treatment 75 min $60
This special anti-aging facial treats the face, neck, and decolletage. It includes a hydradermie lift treatment that tones and firms the face.
Deep hydrating Facial 75 min $60
Deliver deep-hydration, diminish fine lines, revitalize skin with a surge of hydrating moisturizer and nutrient rich serum.
Brightening Facial 75 min $60
The brightening facial treatment starts with a skin-type-specific peel then follows with the necessary extractions, application of a customized therapeutic mask, serum, and hydrating moisturizer. This treatment is super effective with visible glowing results.
Spa Special Package
A) Relaxation massage (60min)+Deep hydrating facial (75min)
Reg:$120 Package price: $110
B) Relaxation massage (60min) + Foot reflexology (60min)
Reg:$120 Package price:$100
C) Mini facial (35min) + Relaxation massage (60min)
Reg:$100 Package price:$90
D) Seniors special(Age 60+)
Relaxation massage (60min) including warm foot bath (15min) & body massage (45min)
Reg:$60 Package price:$40
Spa Location
Unit 3, 714 Lakeshore Rd E,
Mississauga, ON, L5G 1J6

Call Us
905 990 9006
Business Hours
Mon - Sun 10:00 am - 9:00 pm
We Open 7 Days a Week
General Enquiry